Raspberry Pi is a small, single-board computer developed for computer science education. A United Kingdom (UK) charitable organization called the Raspberry Pi Foundation developed the device. 
Raspberry PI is about the size of a credit card, has a 32-bit ARM processor and uses a Fedora distribution of Linux for its default operating system (OS). It can be programmed with Python or any other language that will compile for ARM v6.
The Raspberry Pi computer is essentially a system-on-a-chip (SoC) with connection ports. It can be operated by hooking up a USB keyboard and plugging the computer into a television. The Raspberry Pi Foundation has said it will be issuing two version of the computer: Model A will cost $25 and come with 256Mb RAM and one USB port but no network connection. Model B, which is already available and costs $35, has 256Mb RAM, comes with two USB ports and can be connected to an Ethernet network.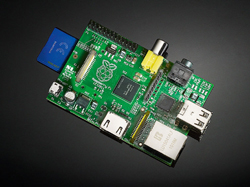 Continue reading  about Raspberry Pi:
The Raspberry Pi Foundation website has more information.
Gizmodo proposes Five things you can do with a Raspberry Pi.
PC Pro provides a review of Raspberry Pi Model B.
This was last updated in April 2012