In robotics, an end effector is a device or tool that's connected to the end of a robot arm where the hand would be. The end effector is the part of the robot that interacts with the environment. The structure of an end effector and the nature of the programming and hardware that drives it depend on the task the robot will be performing.
Next Steps
eye-in-hand system

An eye-in-hand system is a robot end effector e...

(WhatIs.com)
microhand

A microhand is a miniature robotic end effector...

(WhatIs.com)
In manufacturing, a robot arm can accommodate only certain tasks without changes to its end effector's ancillary hardware and/or programming. If a robot needs to pick something up, a type of robot hand called a gripper is the most functional end effector. If a robot needs to be able to tighten screws, however, then the robot must be fitted with an end effector that can spin. 
End effectors used in manufacturing include:
anti-collision sensors 
brushes 
cameras 
cutting tools 
drills 
grippers 
magnets 
sanders 
screw drivers 
spray guns 
vacuum cups 
welding guns
The end effector on this ABB industrial robot is called a gripper.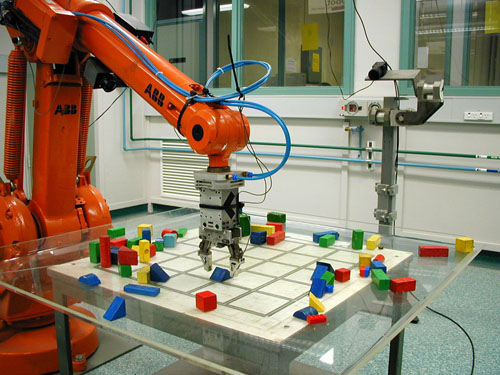 Also see eye-in-hand system and motion plan.
This was last updated in February 2009