Definition
information radiator
An information radiator, also known as a Big Visible Chart (BVC), is a large graphical representation of project information kept plainly in sight within an agile development team's shared workspace.

Download this free guide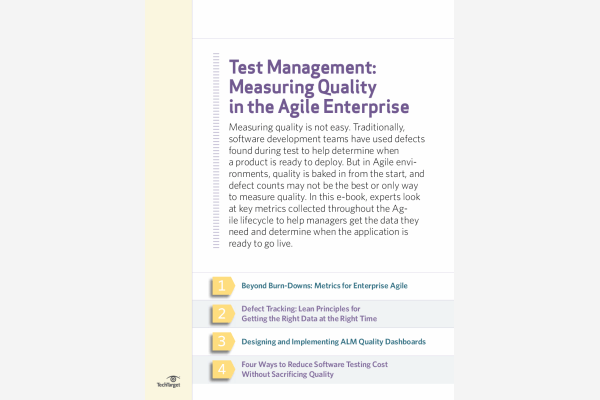 Download Our Guide: Measuring Quality in an Agile Enterprise
Measuring quality is not easy. Take a look at key metrics collected throughout the Agile lifecycle to help you get the data you need and help determine when an application is ready to go live.
By submitting your personal information, you agree that TechTarget and its partners may contact you regarding relevant content, products and special offers.
You also agree that your personal information may be transferred and processed in the United States, and that you have read and agree to the Terms of Use and the Privacy Policy.
The term is generic rather than specific: information radiators can include most types of charts used in agile development. Burn down charts, task boards, planning boards and storyboards are among the possibilities. An information radiator is usually hand-drawn or printed but can also include computer-generated charts and electronic displays.
The purpose of information radiators is to help keep the team focused on what really needs their attention and to promote transparency.
Alistair introduced the term "information radiator" in his 2001 book, Agile Software Development. Martin Fowler is said to have coined the term "Big Visible Chart."
See a video about the use of Big Visible Charts:
Continue Reading About information radiator