A metamaterial is a metallic or semiconductor substance whose properties depend on its inter-atomic structure rather than on the composition of the atoms themselves. Certain metamaterials bend visible light rays in the opposite sense from traditional refractive media. Some metamaterials also exhibit such behavior at infrared (IR) wavelengths.
A light beam passing from air or a vacuum into a common refractive medium such as glass, water or quartz is bent at the surface boundary so its path inside the material is more nearly perpendicular to the surface than its path outside the material (illustration A). The extent of the bending depends on the angle at which the ray strikes the boundary and also on the index of refraction of the medium. All common transparent materials have positive indices of refraction. A metamaterial bends an incident ray so its internal direction is reversed (illustration B).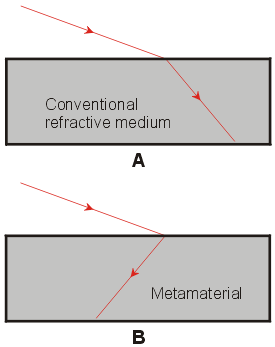 The first metamaterials were developed by the physicist W. E. Kock in the 1940s. Another physicist, Rodger Walser, coined the term "metamaterial" in the late 1990s to describe such substances. Possible applications of transparent metamaterials with negative indices of refraction include red and IR lasers, optical communications systems, spectrometry, monitoring systems to detect trace gases in the atmosphere, medical diagnostic equipment and optical cloaking devices.
This was last updated in
August 2008