Red teaming is the practice of rigorously challenging plans, policies, systems and assumptions by adopting an adversarial approach. A red team may be a contracted external party or an internal group that uses strategies to encourage an outsider perspective.
The term red teaming is sometimes used to refer to the practice of trying to look at a given situation from the perspective of a disinterested or even adversarial party. As such, the practice can be adopted by individuals as well as organizations. The purpose of red teaming is to overcome cognitive errors such as group think and confirmation bias that impair the ability for critical thinking. Within an organization, the inability to be objective and incisive hampers planning, decision-making and problem-solving and inevitably affects sustainability.
Red teaming originated with the armed forces. Its earliest implementation in the enterprise was in security, where ethical hacking and pen testing are two common examples of red teaming. The practice has much wider applications within business, however.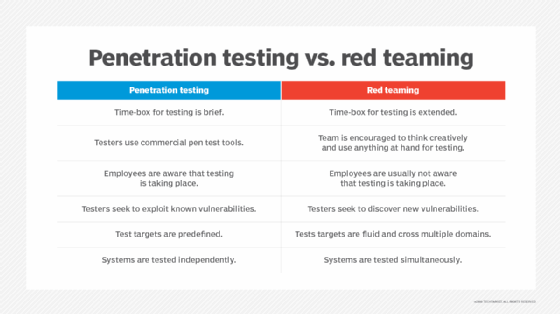 Bryce Hoffman, author of Red Teaming, recommends a few techniques that can help an organization gain a fresh perspective:
Think-Write-Share is a process that can promote creativity and avoid group think. Members of a team are told to generate ideas, write them down and only then share with other group members. That tactic helps people retain their individual perspectives rather than being affected by those of others as they hear their ideas.
Devil's advocacy is the tactic of attempting to counter ideas and decisions, whether or not they seem correct, with alternative views. The team members have to come up with the most compelling arguments against the prevailing concepts as they can. The approach is similar to a debate team, in that the debaters don't have to believe their own arguments but just mount the strongest opposition possible.
Be your own worst enemy is an approach that involves taking an adversarial perspective and thinking like a competitor. The process makes it easier to see how a competitor might act to counter the efforts of the organization.
This was last updated in
July 2017
Continue Reading About red teaming