Reference
Object storage: Fast Guide
Fast Guide to object storage
Get up to speed quickly about this hot topic and the role it plays in cloud storage. Get answers to the following questions:
What is object storage?
Why is object storage important?
How does object storage work?
Who is using object storage?
If object storage is so great, why isn't everyone using it?
What else should I know about object storage?
We recommend you begin your exploration of this important topic by watching this short animated definition.
Object storage describes an approach to addressing and manipulating discrete units of storage called objects. Each object is a self-contained unit of storage that is identified by a unique ID. This ID serves as a pointer to a specific object, much the same way a universal resource locator (URL) points to a specific file on a web server. Like files, objects contain data -- but unlike files, objects are not organized in a hierarchy. Instead, each object exists at the same level in a flat address space called a storage pool. Although the term "object storage" has been around for decades, practical applications for the enterprise haven't been fully realized until the advent of cloud storage.
Meet the new object storage
The object storage of today is different than what some may have been familiar with in the past.
Advantages of using an object storage system
Learn about the advantages of implementing an object storage system in a data storage environment.
Why is object storage important?
Most file systems have restrictions on the number of files, directories and levels of hierarchy that can be supported -- which limits the amount of data that can be stored. Because object storage uses a storage pool instead of a hierarchical structure, storage capacity can be scaled out to an infinite level. The extended metadata and attributes that storage objects provide can also be used to provide additional functionality such as improved data quality, quality of service (QoS) and security management.
Object storage system implementation
Learn why many IT shops are turning to the enhanced metadata of an object storage system to simplify data protection and capacity optimization tasks.
Object storage gains steam as unstructured data grows
Although object storage isn't a new concept in the network-attached storage (NAS) world, it's sparking interest as an excellent way to for enterprise storage administrators to cope with unstructured data.
The role of an object storage system in the cloud
Video: Learn about the importance of an object storage system in the successful development of cloud architectures and why object storage tops the list of cloud storage terms you need to know.
Each object is composed of an object ID (OID), the object's metadata/attributes and the data itself. Once an object is created on one node, it gets copied to one or more additional nodes, depending on the policies in place. The nodes, which provide redundancy and high availability (HA), can be within the same data center or can be geographically dispersed.
In a public cloud computing environment, object storage can be accessed over the Internet through a REST API over HTTP. Public cloud service providers typically provide their own APIs. In a private cloud environment, users can either create their own API or use an object storage device (OSD). In general, commands sent over HTTP to object storage are very simple: put to create an object, get to read an object, delete to purge an object and list to list objects.
Can object storage systems be used with file-based apps?
Learn how to use applications such as Microsoft Exchange or SQL Server with object storage systems on the back end, and what you need to consider to make the process work.
Cloud object storage makes scalability a reality: An expert podcast
This expert podcast provides listeners with a technical explanation of cloud object storage.
Object-based storage devices challenge file systems for unstructured data sets
Learn why object storage has several advantages over a traditional file system architecture for large unstructured data sets.
Object storage: A middle-ground option for cloud storage services
Object storage offers a middle ground for cloud providers looking to offer industries with large, static data-sets easy access to their data in the cloud.
Hundreds of millions of Google, Facebook and Twitter members use object storage every day but don't know it. These mega-sites all use some form of object storage to store and retrieve file content, especially images and videos.
Object storage software using commodity hardware has been developed by startups like Amplidata, Caringo and Scality. EMC has its Atmos product line, HDS has its Hitachi Content Platform and NetApp has its StorageGRID, while HP has its own HP Labs-derived technology in development.
Object storage architecture not just for cloud
VARs have good reasons for paying attention to object storage architecture. It has another use case besides cloud storage: content management systems.
The benefits of object-based storage for health care
Object-based storage cuts down on bottlenecks when large files are opened. This podcast discusses why the concept is so useful in health care data centers.
Object-based storage for cloud storage: Product assessments
Get details on six products that use object-based storage as a foundation for cloud storage. Find out about products from Caringo, Cleversafe, Data Direct Networks, EMC, NetApp and NEC.
VARs: Now is the time to learn about the object storage device market
There are a number of companies that have object storage offerings, both hardware- and software-based.
If object storage is so great, why isn't everyone using it?
Currently, data throughput rates are far slower for object storage than for file- or block-based storage, which makes object storage a poor choice for transactional data. As the protocols and APIs used for object storage becomes standardized -- and as its vocabulary becomes better known and startup costs decrease -- it's expected that more companies will investigate how to use object storage, especially for storing inactive and archived data.
Object storage system success examined at Storage Networking World
A panel of experts discuss why object storage system adoption has not caught on big in the enterprise, despite praise for the technology from storage vendors and insiders.
Object-based storage, cloud gateways best suited for archiving/backup
Object-based storage has the scalability and multi-tenancy needed for the cloud, but performance limitations and the need for cloud gateways often relegates the technology for use in archiving and backup.
Object-based storage draws praise, objections
Although object-based storage isn't difficult to implement, it's still not for everybody. Or is it?
What else should I know about object storage?
Most experts agree that object storage will enhance, rather than replace, file- or block-based storage.
Don't forget management when developing object storage systems
Vendors are addressing the issue of storing massive number of objects (and selling lots of storage), but the real problem is about organizing the information.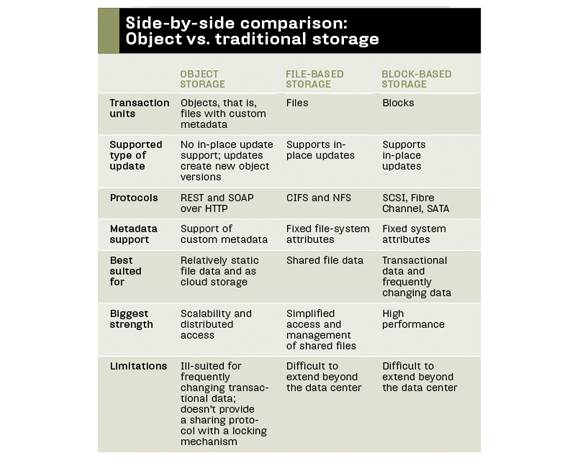 This was last updated in
April 2013